Hong Kong Residential: The Fuss over US$9100/ft2, Floor Numbering, et al
Stephen Chung
Managing Director
Zeppelin Real Estate Analysis Limited
November
2009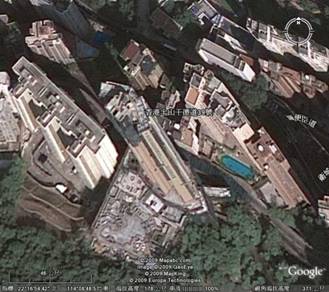 ¡@
A pricey 6158-square foot residential unit reportedly sold for HK$71,280 / ft2 (or roughly US$9,140 / ft2) has caused a lot of sensation in Hong Kong. Many think this would lead to a cyclical upswing in prices eventually for all grades of residential properties thus prompting some to suggest the reintroduction of government-subsidized housing schemes.
Apparently, many such pricey sales were made by investors from the Mainland often with no or little need for mortgages. Indeed, the opinion of the Chief Executive that the pricey residential sector prices would not affect ordinary private housing prices brought not comfort but just more criticism.
Adding fuel to the fire, people also found out the project has skipped many unfavorable digits when numbering the floors thus leading to a nominal 88th floor in a 46 storey building. This also led to accusations of provision of misleading information.
Your humble author thinks these are just fusses over relatively unimportant matters. Here¡¦s why:
A) Technically, a few pricey sales are not sufficient to establish a (meaningful price) trend = although when and where established, what occurs in the pricey (luxurious) residential sector WILL filter down one way or another into the other residential sectors, albeit to varying degrees. Yet, ¡¥established¡¦ trends do not last forever. They also change.
¡@
B) The Hong Kong residential market is ¡§Long Term-Weak but Short Term-Strong¡¨ = the average picture is that an investor who bought a residence in 1994 would have gained practically zilch on a nominal basis if he or she was to sell in 2008. In fact, Hong Kong residential properties offered the poorest long term price appreciation in the last 15 years compared to familiar cities such as London, NYC, Beijing, Shanghai, Toronto, and Vancouver [refer to the chart below].
However, a speculator would have seen 2 fantastic chances for speculation during the period to make great kills [read this previous article = http://www.real-estate-tech.com/articles/RET2Q09.pdf 2nd article titled ¡§Hong Kong Residential: A Naughty Boy¡¨].
In short, there is no strong indication at least by the trend in the past 15 years that prices are about to skyrocket. Will this change drastically? Maybe, but read the next point.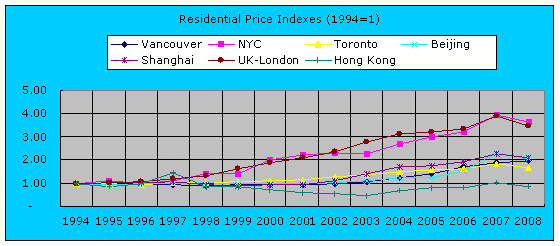 C) Demographics = Hong Kong residential market has used up most if not all of the demographic advantage i.e. increasing population with increasing income. Unless child-bearing aged women all of a sudden decide to have many more babies on the assumption that these newborns would turn out to be contributive adults or a lot of talented and skillful people from the Mainland and abroad decide to call Hong Kong their home, it is difficult to generate the dynamism of demand seen in the 1980s and 1990s. Note also there are now more residential units than households. It seems more a household-product mismatch.
¡@
D) Prices are hovering above their averages and some are even above the (high side of the) standard deviation range = i.e. prices are in fluctuating in the higher cycle, what is the rush? [Refer to the chart below which is on a popular housing estate in Hong Kong, and note its price fluctuations versus the average and high-low range].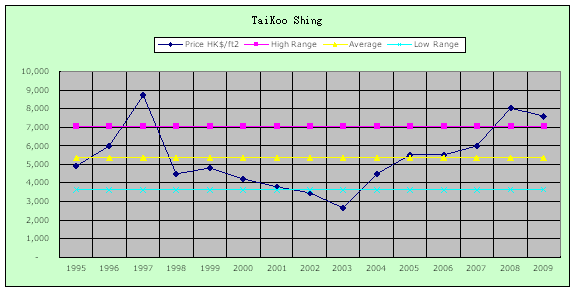 E) HK$71,280 / ft2 is even higher than most properties on the Peak or Repulse Bay, the traditional and established ¡¥prime¡¦ neighborhoods = Conduit Road was only and STILL is a middle-class neighborhood, albeit a high end middle class area. IF this HK$71K is sustained, then expect prices on the Peak and the like to go above HK$100K per square foot. Note prices along Conduit Road, at least prior to the HK$71K sale, very broadly hover between HK$7K and HK$17K per square foot subject to age of building etc. As such, this HK$71K could be regarded as a ¡§forward looking price level¡¨.
¡@
F) Immense global liquidity and tight local land supply are 2 factors = the former arises as governments all over the world, including China¡¦s, seek (sought) to keep the markets liquid via pumping $ into them one way or another and the latter evolves as a result (making a long story short) of the recession in the early 2000s. IF the objective is to enhance-maintain housing affordability at least in the typical-average strata of the residential market, and while Hong Kong is too small to influence the fiscal policies of the big boys, it can certainly increase the opportunities to acquire land via reintroducing (sensible) regular land sales. This would help ease the perceived supply tightness, pricey ones in particular.
¡@
G) Fear that wealthy Mainland China or out-of-town investors would soak up lots of residential properties thus ¡¥forcing out¡¦ local residents in a big way = is a joke!
First, even wealthy cities need people to keep the water running, the sewage working, electricity going, and so on.
Second, when and if all the pricey and sizable residences have been acquired, do you really expect a wealthy out-of-towner to live in a typical Hong Kong flat of 650 ft2 on a gross basis with 2 small bedrooms? Of course one can knock down all these average buildings and replace them all with pricey and big units but then this would be a first of such immense scale in urban redevelopment history.
Third, up to and above a certain optimal number of billionaires, having more of them may not only add little to an economy, but some billionaires will then not want to come as they would not be able to enjoy much advantage doing business or making investment when and if almost everyone else, competitors included, around him or her is a billionaire.
2 suggestions to readers too:
1) Looking from the angle of a buyer = IF one regards prices are way too high and are not value for money, then just don¡¦t buy, especially if one is buying for own use because self-use means the home is for ¡¥consumption¡¦ (of living space) rather than just for investment alone. Just as one would not eat at a restaurant (consumption of food and service) which charges high prices but offers low qualities, so should a homebuyer when seeking a property. Naturally, IF the goal is to flaunt, then this suggestion will not apply.
2) Looking from the angle of a seller = HK$71K in a HK$17K neighborhood? What are you waiting for?
As for lucky and skipping floor numbering, eh, excuse me, what is the problem again?
Creating sensation out of issues is one thing but making sense of them is another.
¡@
Photo: Courtesy of Google Earth
Notes: The article and/or content contained herein are for general reference only and are not meant to substitute proper professional advice and/or due diligence. The author(s) and Zeppelin, including its staff, associates, consultants, executives and the like do not accept any responsibility or liability for losses, damages, claims and the like arising out of the use or reference to the content contained herein.