China Residential Real Estate: Seeking the Better Bargains?
Stephen Chung
Managing Director
Zeppelin Real Estate Analysis Limited
June
2008
(Based on Data from Soufun: China Real Estate Index System CREIS)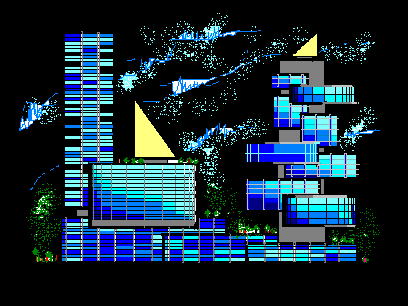 Investors and friends alike are always interested to know which China markets (cities) they should focus at any one time with reference to their price levels, expected returns, economic prospects, and sometimes perceived risks. Definitely these are multi-million fee questions and your humble author has no intention or the resource to properly and professionally address such concerns in detail here in this article.
BUT the following chart may offer some hints (based in part on residential price data obtained from the Soufun database www.soufun.com):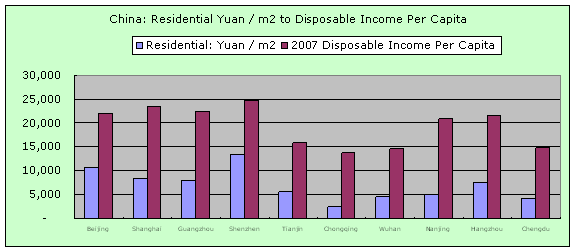 AND if the above is not obvious enough, here is another chart spelling out the percentages: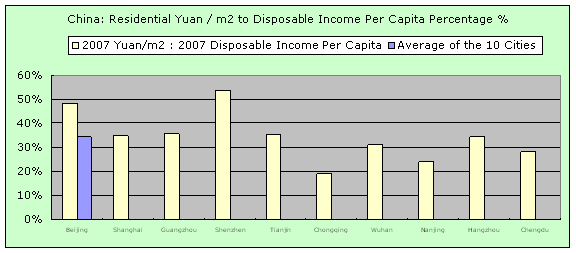 Stating the obvious, the ""average of the 10 cities"¦ gives a benchmark as to which of the markets listed above are RELATIVELY overpriced and which ones are RELATIVELY undervalued. DO NOTE that these are relative measures and they may all go up or down price-wise in absolute terms. Visually, Beijing and Shenzhen deserve some caution, while Chongqing and Nanjing deserve some interest.
IF the above percentages are still not easy to grasp, then refer to this chart below, which is actually the same as the previous one but it presents the markets in terms of ""how many years the homeowners would need to work and save toward the purchase price"¦ assuming a 90m2 residential unit and a double-income household: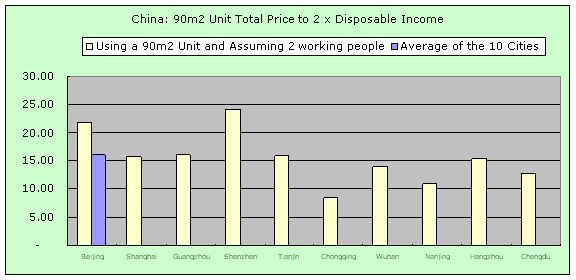 No wonder real estate developers are eyeing some of the 2nd and 3rd tier markets.
Notes: The article and/or content contained herein are for general reference only and are not meant to substitute for proper professional advice and/or due diligence. The author(s) and Zeppelin, including its staff, associates, consultants, executives and the like do not accept any responsibility or liability for losses, damages, claims and the like arising out of the use or reference to the content contained herein.