China LESS REPORTED (1): Ordinary Residential Rental Sector
Stephen Chung
Managing Director
Zeppelin Real Estate Analysis Limited
March 2007
(Based on Data from Soufun - China Real Estate Index System CREIS)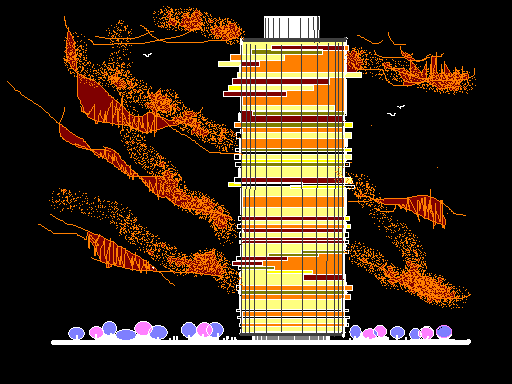 While there are sufficient market publications on the higher end China residential rental market sector, there are few if any reports on the a) the ordinary residential rental sector, b) 2nd hand private residential sector, and c) the residential villa sector. Thus we have decided to offer some basic data and indexes on these sectors, and in this article, we shall deal with the latter (a) sector which in a way may reflect the overall economy, affordability, and market sentiment more comprehensively.
Ordinary residential rental properties herein include those originating from public-built units, economic housing units, and the mass private (commodity) market units, and the indexes are compiled based on tens of thousands of rental listings from various real estate brokerage and internet sources. Such rental units are also deemed to offer the basic amenities such as heating, water, electricity and the like, and would include some basic furnishings and furniture as well. These units are usually 1 bedroom, 2 bedroom, and 3 bedroom units ranging from approximately 30m2 to 100 m2 in floor area with rents being paid quarterly.
Only the 4 major markets of Beijing, Shanghai, Guangzhou, and Shenzhen are dealt with. Here are the basic index charts: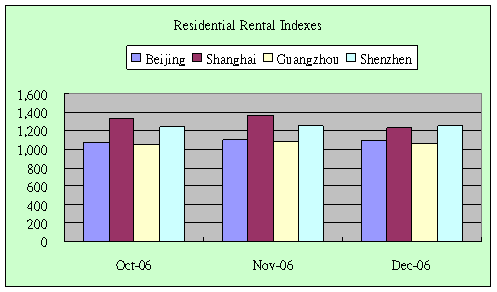 Source: Soufun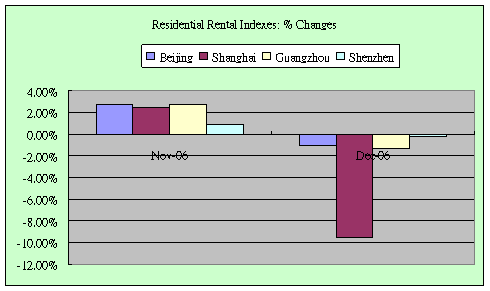 Source: Soufun
At first glance, except Shanghai, the other markets have made gains albeit small. By December 2006, all 4 markets showed drops yet again Shanghai dropped the most nearing 10%. Perhaps some of the economic measures were taking their effects.
Please also again note these rentals are meant for ordinary households
, and the monthly rental amounts are generally in the low 4-figure range, e.g. RMB 1,000-3,000 range, denoted in Chinese Yuan.
Notes: The article and/or content contained herein are for general reference only and are not meant to substitute for proper professional advice and/or due diligence. The author(s) and Zeppelin, including its staff, associates, consultants, executives and the like do not accept any responsibility or liability for losses, damages, claims and the like arising out of the use or reference to the content contained herein.