China: Beijing Construction Costs Higher Among the Big 4
Stephen Chung
Managing Director
Zeppelin Real Estate Analysis Limited
February 2007
Most real estate reports focus on real estate prices, rental rates, and the like. In this article, we shall look at the costs of one of the components required in real estate: building construction. Not that real estate prices necessarily have anything to do with construction costs, yet the latter do affect the profitability (or the lack thereof) of real estate ventures. ¡§Big 4¡¨ here refers to the 4 major metropolitans in China, namely Beijing, Shanghai, Guaugzhou, and Shenzhen, and Beijing has the highest overall building construction costs based on the data and statistics from Levett & Bailey, one of the major construction cost consultants. Some details are listed as follows:
A) Residential, office, and retail (shopping mall) sectors only = we only focus on these 3 real estate sectors and only on the high quality end of these sectors
B) Higher end of the construction figures used = we have used the higher of the typical range of construction cost quoted and generally, the lower end figure is around 2/3 of the higher end figure
C) Snapshots based on 2Q 2006 construction cost in Yuan (China currency) per square meter (1 m2 = 10.76 ft2) of floor area figures = please refer to the following table
| | | | | |
| --- | --- | --- | --- | --- |
| Sectors / Cities | Beijing | Shanghai | Guangzhou | Shenzhen |
| Residential | 4,300 | 4,100 | 3,800 | 3,800 |
| Office | 8,300 | 8,100 | 7,900 | 7,900 |
| Retail | 9,600 | 9,400 | 8,700 | 8,700 |
Here are some interesting observations:
1) Deeming (corresponding period figures) Beijing as 100%, Shanghai construction costs almost match those of Beijing = yet all 3 metropolitans of Shanghai, Guangzhou, and Shenzhen have lower construction costs than Beijing in varying degrees.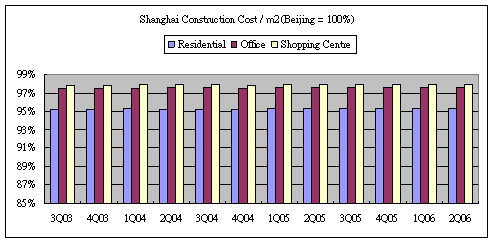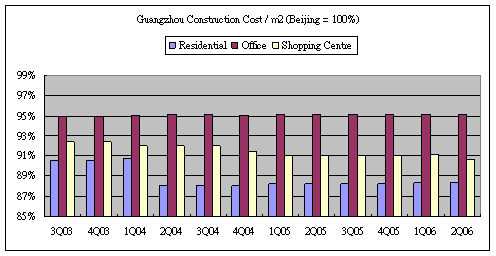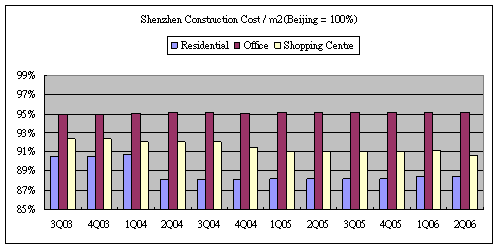 2) In terms of residential and retail construction costs, Guangzhou and Shenzhen figures are less than 90% of those of Beijing in more recent periods = please refer to the foregoing charts
3) There appears to be a north-south division in construction cost trends = please refer to the charts below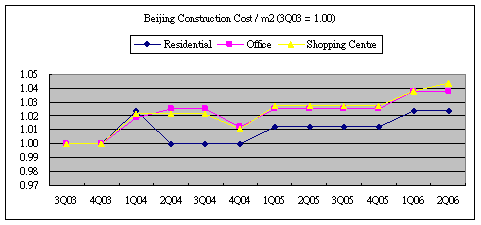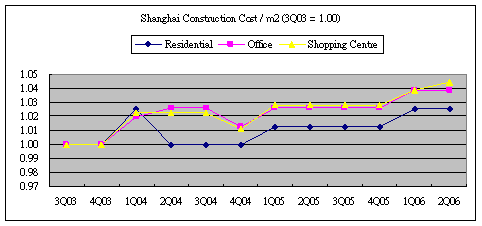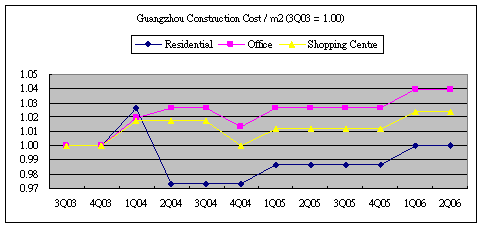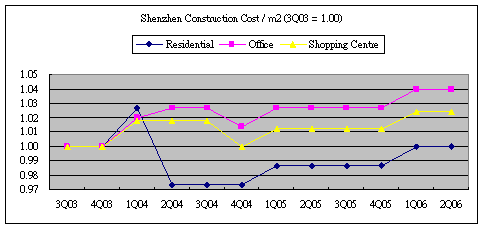 4) In essence, the Big 4 share similar construction cost trends = in that both office and retail construction costs took a dive in 4Q 2004 yet have been rising a bit in recent periods
5) YET, while residential costs for Beijing and Shanghai have not dropped below the 100% mark, those for Guangzhou and Shenzhen have = and this in some ways sets the northern and southern cities apart in terms of cost trends. Speculatively, notwithstanding coincidence, the likeness in cost trends between Beijing and Shanghai, and especially between Guangzhou and Shenzhen, might have to do with their proximity to one another in that the construction entities operating in them might be able to move and operate between them, and for that matter, supplies of materials and labor are thus also more interchangeable
While construction costs are / will not be a major cost component (land cost is / will be the more dominant factor if developed cities are any guide) in such major metropolitans, these cost figures do provide a gauge on the inflation trend, a reflective measure of the real estate market sentiment, and a benchmark on the building quality.
Notes: The article and/or content contained herein are for general reference only and are not meant to substitute for proper professional advice and/or due diligence. The author(s) and Zeppelin, including its staff, associates, consultants, executives and the like do not accept any responsibility or liability for losses, damages, claims and the like arising out of the use or reference to the content contained herein.