Passion For Real Estate Counts
Stephen Chung
Managing
Director
Zeppelin Real Estate Analysis Limited
February
2004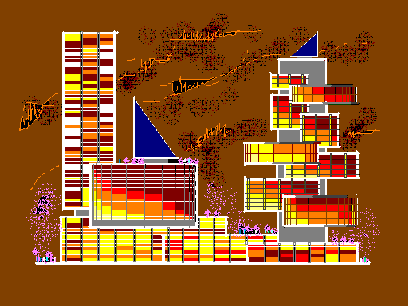 Based on news articles and reports on real estate in Mainland China, many real estate developers believe that having access to land is the key. Added sufficient (bank) financing and a building team, profits will be made. More sophisticated views would dwell on the need for solid market research, good architectural design, competent project management, effective marketing strategy, efficient property management, and the like, and their synergies to realize such revenues and profits.
The above real estate production ingredients and processes are indeed vital to any real estate development project or operation. Developers who have a better managed operation over their competitors will in the long run get ahead of those who do not. Nonetheless, while these factors of production such as land, concrete, bricks and mortar etc, and their assembly processes such as site planning, design, costing, construction, occupancy, and management etc, are essential, they alone do not guarantee a noticeable lead over the competition or the realization of a brand name, as competitors may be just as good in these areas. What counts may be ¡¥passion¡¦ i.e. having a true love for real estate development. Some traits as follows:
A) Top down = the boss / owner, in his or her capacity as Chair / CEO, has to have this passion himself or herself for real estate, otherwise it will only be empty slogans. Also, no employees let alone customers would exhibit or harbor much resonance to empty slogans. Real estate developers whose properties (products) are riddled with defects, poor management, problematic titles, and the like, may among other things be lacking in such passion.
B) An inclination to pleasantly surprise (thrill) the customers (real estate buyers) = it is more than doing just a good job, or simply be ahead of the competition, but an itch to make the customers feel they are getting more than they bargain for. This automatically implies being more diligent, observing, professional, and caring, rather than being mediocre.
C) Beyond one¡¦s calling = this means going one step (or a few steps) further than required. For instance, real estate developers can consider providing visuals via the internet / web on the construction site of the property so that the presale purchasers can monitor the progress.
D) Helps one innovate = the passionate developer is likely to come up with innovative ideas to improve his / her projects and operations as he / she is likely to be very facile of the business. There is no need for incremental innovations either, small ones accumulated overtime can be just as or even more effective.
An operation without passion can still get buildings built and projects moved, but it will be like a singer who gets all the music techniques right yet whose singing contains no feelings or spirit.
Notes: The article and/or content contained herein are for general reference only and are not meant to substitute for proper professional advice and/or due diligence. The author(s) and Zeppelin, including its staff, associates, consultants, executives and the like do not accept any responsibility or liability for losses, damages, claims and the like arising out of the use or reference to the content contained herein.